As we progress into an era of dynamic global connectivity, the need for cyber security is more evident now than ever before. With the level of sophistication and complexity of cyber-crimes evolving rapidly, it is no longer just a concern but a necessity to be aware of the destructive ability of cyber threats and be readily equipped to deal with the consequences of potential attacks. In this time of digital supremacy, cyber security is no longer just a function of Information technology but has moved into becoming a major part of organizational governance and an integral part of every company structure.
The other side of technological advancements is the high rate at which cyber crimes, virtual threats, online vulnerability, and lack of privacy are sprouting out at the rate of knots. It is critical that this ever-growing issue of cyber security be addressed at the earliest before the very things that help us advance technologically, might end up self-destructing.
World CyberCon 2023 will bring together Industry Experts, Key Decision Makers, and Experienced Influencers from across the globe to discuss, highlight, and analyze the various aspects of Cyber Security across regions and at a global level.
The Conference will serve as a platform for excellent networking, brand awareness, and potential business opportunities for all in attendance. The event will also serve as an occasion for world leaders and government officials to come together and present their views and share expert knowledge in the field of Cyber Security.
Industries in focus:
The event will cover Defence, Healthcare, Entertainment & OTT, Manufacturing, Telecom, Government, Utilities, Education, and Ecommerce, BFSI and Transport and logistics.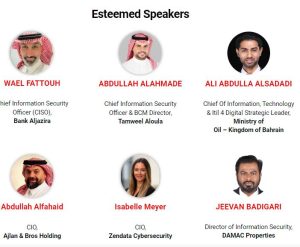 Esteemed Speakers:
Wael Fattouh, Chief information Security officer, (CISO), Bank Aljazira, Abdullah Al Ahmed, Chief information Security officer and DCM Director, Tamweel Aloula, Ali Abdullah Al Sadadi, Chief of information, Technology & Itil 4 digital Strategic Leader, Ministry of Oil, Kingdom of Bahrain and many more.
For detail: Click here