StrategINK is a team of experienced industry experts who help businesses accelerate their innovation and go-to-market strategies. It's core offerings include research-based business insights, content-driven marketing solutions, digital transformation consulting and advisory, and learning, enablement, and skill augmentation services. StrategINK helps businesses transform their operations, innovate digitally, accelerate sales, enhance skills, and delight customers.
StrategINK uses a rich, diverse, and hybrid model of digital and physical tools, techniques, and industry-proven frameworks and best practices to develop unique solutions that address the complex business challenges of the clients. StrategINK creates compelling value through sustainable innovation.
With the participation of Gov.t, Private and various entities of cyber industries including India, StrategINK arranged 'The global agility summit-2023' on 20 June in Dhaka.
The very beginning of the program guest of honor Dr. Dewan Muhammad Humayun Kabir, Project Director (Additional Secretary), Aspire to Innovate (a2i) presented Bangladesh's journey towards analog to smart Bangladesh.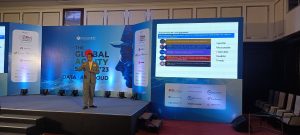 Humayun Kabir said, Transforming towards Smart Bangladesh the gov.t has adopt E-Government 3g: Emerging model where S.M.A.R.T, Specific, Measurable, Attainable, Realistic and timely will be ensured.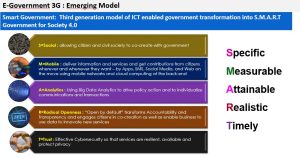 He said, based on four pillar, Smart citizen, smart government, smart society and smart economy, smart Bangladesh will ensure high income, high human development, and poverty free, sustainable urbanization, micro-economically stable and service at finger prints.
He said, access, awareness and adoption are the key component of cashless economy where Viable infrastructure of non-cash alternatives with widespread availability of QR, POS, MFS, Bank Apps and other digital payment systems will work.
He stated current cybersecurity capacity of Bangladesh. 'Digital security act-2018', 'Digital security agency' has automatically been worked and 'Data protection act' is in drafting cases. He refer BGD E-Gov.t CERT which serve the purpose of N-CERT working continuously to keep cyber space safe.
Later on, Chief Executive officer of StrategINK, Santanu Ganguly presented a brief about StrategINK's vision. He also focused on Digital Bangladesh in his presentation.
He said, the current market size of digital commerce industry is at $3.1 billion. Gov.t has spent approx. $6 billion in digitalizing airports, initiating smart project and commencing digital connectivity projects and 7th largest National data center is in Bangladesh.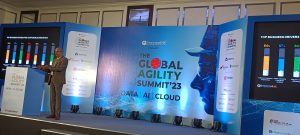 He said, "Leveraging eminent  experts in the room todays talking points will revolve around the way ahead for Bangladesh to have a pervasive digital infrastructure established which will be seen as a powerful step towards excelling as a digitally savvy nation in line with the Digital Bangladesh agenda".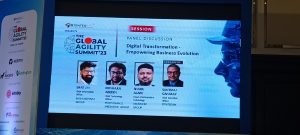 In the panel discussion 1, titled "Digital transformation-Empowering Business Evolution" moderated by Santanu Ganguly, Sifat J N, Chief information officer, Bashundhara Group, Minhajul Abedin, CTO, Prothom alo mediastar group and Shakil Alom, Head of IT, AkijBashir Group discussed how digital transformation impact the business and what are the steps to be taken to cope with the transforming business evolution.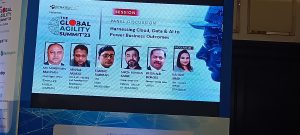 In the panel discussion 2, titled "Harnessing Cloud, Data &AI ot power Business Outcome" moderated by Kanchi Shah, GM Content Strategy, StrategINK, CDO, Upay Mokerrobin Manna, Arshal Arafat, CIO&VP, Bismillah Airlines, Farhad Rahman, CISO, HSBC, Bangladesh, Mirza Borhan Kabir, IT head, Bengal group and Reginald Borges, Director, Global sales, VERTIV discussed the demand of cloud uses, its implementation and challenges coming ahead. Where big data analysis, Machine learning and artificial intelligence is big factor to be used.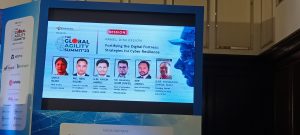 In the panel discussion 3, titled "Fortifying the Digital Fortress: Strategies for cyber Resilience" Eng. Mohammad Zahinul islam, from interexchange solutions moderated the session.
Saiful islam, CISO, Dhaka Bank, Abul Kalam, Head of IT security & compliance, Eastern Bank, G M Faruk Ahmed, Senior principal officer (Security) Rupali Bank, Mahbubul Alom (Rafel), Head of information security Division, Prime Bank and Arif Zaman, Head of technology, Transcom group discussed how organizational security to be ensured.
In 4th industrial revolution, IOT, Robotics, Big Data, Machine learning, all will be integrated, so, attacker will more active. Cyber security will be more challenging for the organization.
Panelist suggest, to safe the organization from the attack, PPT (People, process and technology) should be played equal role. Lack of one, organizations will not be able to comply with the attackers. So, Skill manpower shortage is a big issues globally.
Kanchi Shah, GM, Content strategy told, The COVID-19 pandemic has had a significant impact on cyber security. The shift to remote working has created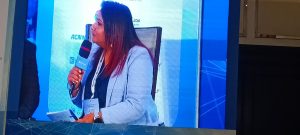 new vulnerabilities that cyber attackers have been quick to exploit. In addition, the pandemic has led to an increase in the use of cloud computing and other digital technologies, which has also created new security risks.
In order to protect organizations from these and other cyber security threats, businesses and organizations need to take a number of steps, including Implementing strong security controls, Educating employees about cyber security, having a plan for responding to cyber-attacks.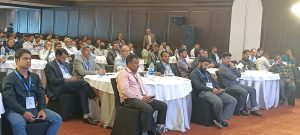 The COVID-19 pandemic has created new challenges for cyber security. However, by taking the necessary steps, businesses and organizations can protect themselves from these threats and keep their data safe. Actually StrategINK work here to tie up the industry stakeholders.
There were some companies whose booth were in the doorside of the summit venue, including vertiv, infobip, Ruckus (commscope) have shown their products and solutions.
Santanu Ganguly said, the next conference will be in the coming October-2023 in Colombo, Sri Lanka. Then after in Nepal and Singapore.
ALSO READ: