Bangladeshi political parties are fueling tensions in the lead up to the 12th National Assembly elections. The tensions have spread to social media. Parties frequently post on Facebook about the program, violence, leaders' statements, and counter-accusations. Page followers react with love, like, wow, haha.
A study shows that people's reaction to Facebook posts of three major political parties in the country has changed. Compared to the ruling party Awami League, the reaction has increased on the Facebook page of BNP.
Assistant Professor Md. Sayeed Al-Zaman conducted research titled 'Politics in Social Media: Users' Communication with Political Parties on Facebook' at Jahangirnagar University. The research was published in the journal 'Media Asia' on November 7.
According to the research, Awami League, BNP, and Jamaat-e-Islami (Registration canceled by court) were the first ones to create a Facebook page on August 30, 2013. Jamaat made their page on June 20, 2014, and BNP on June 13, 2019.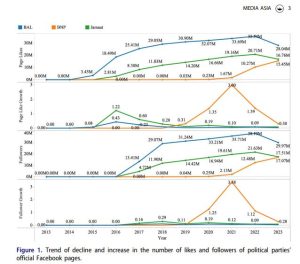 BNP was the last to become active on social media, but their page gained popularity rapidly. The researcher explained that these three groups were chosen because they have a much higher popularity on Facebook compared to other groups.
According to the study of Md. Sayeed Al-Zaman, the amount of interaction (react, comment and share) on the page of Awami League in 10 years after opening the page has reached 13 crore 50 lakh 52 thousand.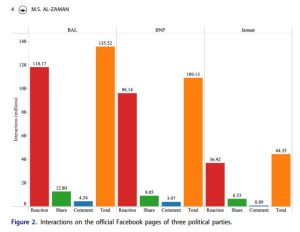 On the other hand, in less than 4 and a half years, there have been 10 crore 90 lakh 15 thousand interactions on BNP's page. And Jamaat's page has 4 crore 35 lakh interactions. It has been calculated that BNP's average annual interaction was 2 crore 7 lakh 29 thousand, while Awami League's was 1 crore 5 lakh and Jamaat's 4 million 93 thousand.
Awami League's page interaction decreased after 2016, while BNP's interaction rate increased since 2021, surpassing others.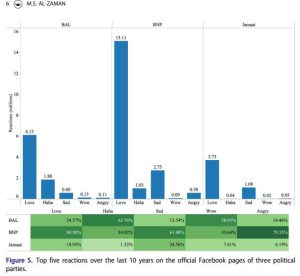 The researcher analyzed the main reactions on the pages of three groups. Each reaction expresses certain feelings. For instance, the love reaction shows support or love, laughter or humor is represented by haha, sadness or sympathy is expressed with sad, surprise is expressed with wow, and anger is shown with angry.
According to the study, BNP received the highest rate of 'profit' response among the political parties, 1 crore 5 million 11 thousand, which is 60.50 percent of the total response. On the other hand, Awami League's post received 60 lakh 13 thousand 'profit' reactions, which is 24.57 percent of the total reaction. The number of 'love' reactions on Jamaat's Facebook page was 30 lakh 73 thousand or 14.93 percent.
BNP receives the highest percentage of sad and angry responses at 61.90% and 79.35% respectively. Awami League, on the other hand, leads in haha and wow responses at 63.76% (1,088,000) and 58.95% (150,000). Jamaat ranks third in all reactions except for sad.
In this regard, researcher Md. Sayeed Al-Zaman told the reaction of political parties on Facebook is becoming more serious in the context of Bangladesh in view of the upcoming 12th National Parliament elections. So, i tried to understand how the political parties to communicate trough social media.
He quoted, people expressed his thought but it can be in different ways. So, they act on social media through various reacts. The data was collected in the year of 2014 to 2023, he added.