T
he Cisco AI Readiness
Index
is based on a double-blind survey of 8,161 business leaders with responsibility for AI integration and deployment at organizations with 500 or more employees based across 30 markets globally. The Index uses six pillars, each with an individual weightage, to benchmark AI readiness – Strategy (15%), Infrastructure (25%), Data (20%), Governance (15%), Talent (15%), and Culture (10%).
Within these pillars, levels of readiness are assessed using a combined total of 49 indicators to determine a readiness score for each pillar, as well as an overall readiness score for the respondent's organization. The data was organized and categorized into a level of readiness, with respondents ranked in four groups –Pacesetters, Chasers, Followers, and Laggards. These groups and their corresponding scores are pictured left in descending order.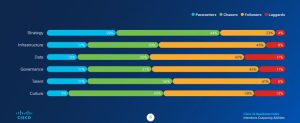 Based on this scoring system, 14% of respondents globally met the criteria for Pacesetters, with Chasers at 34%. Followers are the largest group at 48%, and Laggards the smallest group at 4%. Highlighting the vast divergence in levels of readiness, the average scores recorded for each group are Pacesetters – 93, Chasers – 72, Followers – 48, and Laggards – 24. The Cisco AI Readiness Index provides a comprehensive assessment tool for organizational leaders.
ALSO READ:
When it comes to measurement, while an impressive 87% of respondents say their organization has a process in place to measure AI's impact, only 41% have defined metrics for doing so. Similar numbers are seen with financial preparedness with 84% having a financial strategy to support AI deployment in place, but only 45% saying they have a long-term financial plan.
One of the key criteria under the Strategy pillar that differentiates the Pacesetters from the rest is a willingness to invest in AI. Only 27% of respondents say AI deployment has been given the highest priority for budget allocation and incremental budget funding, compared to other technological deployments. Based on the Index data, companies across the world have made strides when it comes to having an overall strategy, a clear understanding of what type of AI they want to adopt and deploy, and what outcomes they want to drive.
Yet the question remains, are they ready on other fronts that are critical to leverage the full potential of AI?