There was a customer met up held at a reputed hotel at Dhaka, Bangladesh by Sophos on Thursday (21 September). Attendee said, After a long time gap, Such type of experience sharing event makes us enthusiastic to know the latest trends of cyber security and networking also.
Presided by Sophos Bangladesh country manager, Abul Hasnat Mohsin, Naveen Grover, Sales Head (North & East India), Nepal, Bhutan, Bangladesh, Sumit Das, Senior sells Eng. Of Sophos were present at the event along with 100 + customer from the industry.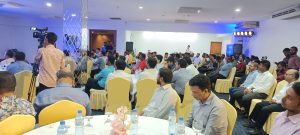 Naveen Grover said, Bangladesh market is important for Sophos. We are continuously growing in this market. Year on year, we are growing more than double-digit growth.
We are getting from Bangladesh market. The best part in the Bangladesh is that Bangladesh is a growing market in terms of infrastructure. Infrastructure is growing in developing country. After COVID scenario has been changed. Cybersecurity importance has been increased and people understand the importance of cybersecurity.
Earlier it could be for some organization, they treat like it's a liability for them. Now they do understand with the help of technology, they can grow their business; they can take their business on next level. And to secure these technologies, they always require cybersecurity. And Sophos is the biggest vendor in the world for the cybersecurity posture.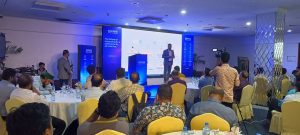 Naveen Grover said, there are so many OEMs but the clarity in the vision Sophos is having in terms of their future roadmap and technology enhancement, product stability, and the trust of 540,000 customers on Sophos is huge.
We are not where we are facing any obstacles in terms of budget allocation and all. Customers are supporting us through our channel partner. The best part post-COVID is that even we are getting more budgets from customer side.
He explain, There are many OEMs who say that bring your own technologies, mean to say, you, whatever technologies you are using, that would be at is it we are going to… This is not our strategy; this is some other's OEM strategy.
They're going to top up their services to manage these existing technologies. And the second concept is running in the market, rip and replace. But our technologies we have just ripped and other OEMs say completely will be us.
But the best part with Sophos is that we ensure about customers existing investment. No need to make any change in your existing technology. We are just coming up with the integration mode option with you, with the help of integrators; we can integrate your existing products, cyber security products to get the feed of incidents and events for MDR actions, managed detections and response.
Naveen Grover added, just in one year after launch of MDR, more than 17,000 customers have been acquired for MDR. This is the fastest growing market product in the market. Because the integration with existing setup, smooth integration makes us strong.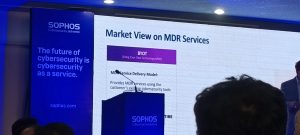 He said, Sophos are going to enhance existing solution as well as enhance technologies. We are going to see in next 12-18 months, we are going to smash the market. Naveen Grover wishes big thanks to customer for their support for choosing Sophos in their esteemed organizations.
Sumit Das, Senior sales Eng. Of Sophos, Really cyber security is a different aspect; it's totally different from network security. So, institutions have to think this independently along with making independent cyber security team.
He farther said Bangladeshi customer trust Sophos. Though there was a couple of month gap in Bangladesh between Sophos and customer met but Abul Hasnat Mohsin's on board again and this event merges the gap fully I think.