The very first day of three days Bangladesh-India "Cyber Maitree-2023", at 10 AM there was an inauguration ceremony at the BCC auditorium at ICT division where ICT Secretary Md. Shamsul Arefin, Executive director of BCC Ranajit Kumar, Director general of DSA Abu Syed Md. Kamruzzaman and S.S. Sarma, Director operation form CERT-In were present. There were 50 more attendees from the CII affiliated institutions.
Then according to the schedule Shri. Ashutosh Bahuguna, Shri. S. S. Sarma, Shri. Gaurav Pathak, Shri Abhishek Solanki and Shri Shashank Gupta talk on various issues.
Senior director of Indian Computer Emergency Response team, Shri. S.S. Sarma explained the activities of CERT-In. He said, CERT-In has 24/7 incident response helpdesk with evidence collection & incident investigation. It also track of security threats and cyber attack and inform security alerts, advisories, guideline, workshops and awareness program.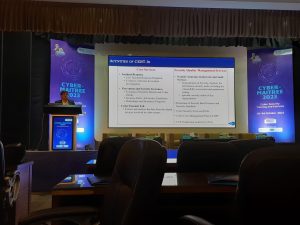 CERT-In extract and analyze the data from the digital devices involved in cyber crime. It performs episodic security audits of key organizations and implement of security auditors information security audit, including the vulnerability assessment and penetration testing.
Ashutosh Bahuguna, senior scientist from CERT-In talks on building cyber resiliency and its objectives. He said, cyber resiliency refers to an organization's ability to withstand, adapt to, and recover from cyberattacks or other cybersecurity incidents while continuing to operate effectively. Ensuring cyber resiliency involves a combination of proactive measures and strategic planning.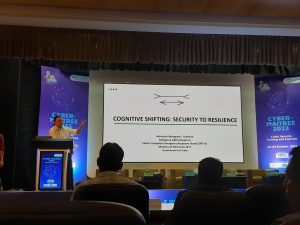 Several participants told this reporter that the rate of cyber attacks in the current world is increasing day by day. Institutions are trying their best to protect their institutions from all sides. But cybercriminals are constantly changing their attack patterns. So it is not possible to ensure protection for anyone alone.
So there is no alternative to global collaboration to protect against cyber attacks. In that case, such joint events increase enthusiasm and help to keep up to date by sharing knowledge.
ICT Secretary Md. Shamsul Arefin told infosecbulletin that, Under the MOU with CERT-In, its an collaborative session where both team will get chance to share knowledge and learn how to prepare themselves to fight against the cyber criminals safeguarding the respective nation.
It has another two days 03,04 October left from the agenda of cyber maitree-2023