ThreatSec hackers group claimed the responsibility to launch cyberattack on numerous website of India. In their dark web channel, the group shares an alleged breach of the esteemed Indian Ministry of Education University.
The group listed the affected domains on their dark web channel and it cyberattacks have listed five companies. The alleged victims include Iiserkol.ac.in, Inspiroxindia.in, Kumarionline.com, Pcmm.edu.in, and Vtinfocom.com. All of these possible victims are Indian organizations — while some are part of the Indian government, others are privately owned entities.
"Hello magnificent people of the Web! ThreatSec is here yet again to present you with a few databases from India; including two Indian Ministry of Education University Breaches," reads the threat actor post.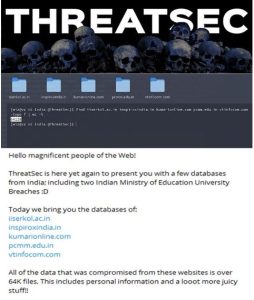 According to hacker group dark web channel post, they claim a staggering 64,128 files containing sensitive data have been compromised in this latest cyberattack.
An Indian news publication site (thecyberexpress) stated that they have contacted the companies affected by the ThreatSec cyberattacks to gather more information. However, as of now, the company has not provided any official statement or response. Infosecbulletin is monitoring the incident and will update if there is any statement from the organization.
India is a prime target for hackers due to holding the G20 Summit in recent times. Hackers use advanced techniques to attack the country.
Media disclaimer: This report relies on internal and external research and is for reference only. Users are responsible for their reliance on it. Infosecbulletin is not liable for the accuracy or consequences.
Also Read: