Bangladesh Bank has given approval to banks and financial service providers in the country to start digital banking services to provide technology-based financial services out of conventional service delivery methods. Digital Bank was approved in the board meeting on Wednesday (14 june).
The Communications and Publications Department of the Central Bank confirmed the approval of the Digital Bank Guidelines in a press release on Thursday (June 15).
According to the notification, the use of new technology in recent times has led to diversification of services in the financial sector as well as in other sectors around the world. Banks and financial service providers in Bangladesh are also interested in providing technology-based financial services out of their conventional service delivery methods. To this end, Bangladesh Bank has already allowed banks and other institutions to provide financial services digitally through various alternative delivery channels, namely- Mobile Financial Services (MFS) and other e-wallets for financial inclusion of marginalized communities.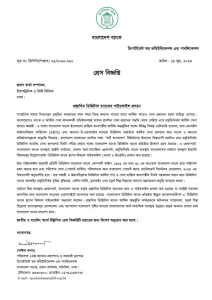 And it is said that Bangladesh Bank has taken the initiative to establish Digital Bank with the aim of providing global information technology-based digital banking services to the people for the purpose of building a 'Smart Bangladesh' declared by the Bangladesh Government. In this context, the legal framework of the banking system in Bangladesh, the socio-economic context of the country, the current position of Bangladesh in the technology-based banking system, etc. have been analyzed and formulated 'Guidelines for the establishment of digital banks' (Bangla and English).
According to the guidelines, every digital bank has to obtain a license from Bangladesh Bank under Section 31 of the Bank Companies Act, 1991 and the provisions of Bangladesh Payment and Settlement Systems Regulation, 2014 shall be followed for the management of payment services.
Digital Bank Online will use technology-based artificial intelligence, machine learning, blockchain and other advanced technologies of the fourth industrial revolution to make cost-effective and innovative digital financial products and services accessible to the marginalized population.
In the context of the present global system, the guidelines for Digital Bank proposed by Bangladesh Bank have been formulated and uploaded on the website of Bangladesh Bank for the information of all concerned. Applicants who wish to establish a digital bank in Bangladesh should follow the 'Guidelines for setting up a digital bank'.
ALSO READ:
Bangladesh Bank expects that the proposed digital bank will contribute significantly to the development of Bangladesh's socio-economic system by further expanding financial inclusion programs, addressing the challenges of the fourth industrial revolution and creating a cashless Bangladesh.