The government planned to introduce Shared Health Records (SHR) in public hospitals. SHR is a digital record of a patient's health information that can be shared among healthcare providers. The updated system will not only alleviate inconvenience for patients and doctors, but also foster transparency and improve the quality of healthcare services.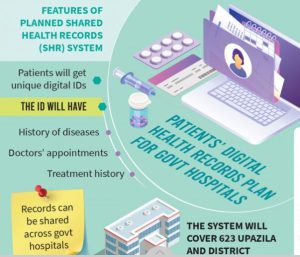 A central database will be established to store the health information of patients under the proposed program. Every patient will receive an identification number, through which their medical records, including their diseases, doctor's appointments, and treatment history, will be digitally stored. This innovative system ensures immediate and universal access to the electronic data by all hospitals.
The system has already been tested in certain hospitals, as confirmed by sources from the Directorate General of Heath Services (DGHS). A groundbreaking project is set to commence, introducing it to 623 hospitals at both upazila and district levels nationwide. The estimated cost of this endeavor amounts to Tk1,770 crore.
The project proposal has already been submitted to the Planning Commission for approval. According to sources, once the project is approved, it will take approximately two years to be implemented.
A patient doesn't need to give their medical history again when going to a public hospital for the second time, because of the central health record. This makes it easier for both the patient and the doctor.
The DGHS has a strong belief that medical services will become readily accessible and efficiently provided, leading to an enhancement in the quality of these services.
As per the project proposal, this program has already undergone successful testing in 53 hospitals utilizing OpenMRS+ (Open Medical Record System), an open-source software.
According to the proposal, the introduction of this technology-based health system will not only make the healthcare service sector corruption-free but also cost-effective.
We are thrilled to announce the upcoming launch of a convenient online appointment system tailored specifically for patients. This cutting-edge system will allow patients to easily schedule their appointments using their unique IDs. Get ready for a seamless and hassle-free healthcare experience like never before! Also, digital health record system will help strengthen telemedicine activities, it says.
The proposal further states that essential equipment will be acquired and installed in healthcare facilities owned by the government. Additionally, an impressive number of 103,890 service providers will receive comprehensive training. Along with this, 4,458 IT manpower will be recruited.