The DDoS attack is constantly evolving due to advancements in technology and the changing motivations of attackers. Recent cases have shown that these attacks can cause significant damage and have severe legal consequences.
Akamai Prolexic's DDoS defense platfam has successfully thwarted the most colossal DDoS attack ever recorded on a prominent U.S. financial institution's platform. The attack, which unleashed a formidable torrent of 633.7 Gbps and 55.1 Mpps, was powerfully neutralized.
Akamai security analysts reported a major DDoS attack that lasted less than 2 minutes. During the attack, the threat actors used a combination of flood attack vectors.
ACK
PUSH
RESET
SYN
In Europe and the Asia-Pacific region,
Prolexic
's DDoS protection shield platform successfully thwarted numerous unprecedented attacks. Among them, a staggering 704.8 million packets per second (
Mpps
) spike in September 2022 and an astounding 900.1 gigabits per second (Gbps) surge in February 2023 were skillfully neutralized.
Malicious Traffic source
Here below, Akamai have mentioned the top malicious traffic sources:-
Bulgaria
Brazil
China
India
United States
Thailand
Russia
Ukraine
Vietnam
Japan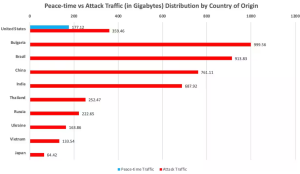 Akamai mentioned the following recommendations :-
Make sure to adopt CISA recommendations promptly.
Check all the key subnets and IPs for effective mitigation controls.
Establish continuous DDoS security controls as your initial defense layer.
Enhance security with advanced network cloud firewall beyond basic DDoS protection.
Form a proactive crisis team and keep incident plans and runbooks up to date.