A recent Twitter user shared an AI-generated image portraying Tesla CEO Elon Musk as an infant. The post titled "BREAKING: Elon Musk's anti-aging experiment spiraled out of control" has gained significant traction, accumulating over 2 million views and 35.4k likes to date.
While the internet community is buzzing with excitement over the AI-generated picture, Elon Musk himself couldn't resist reacting to it.
In response to the tweet, Musk playfully commented, "Guys, I may have taken things a bit too far," accompanied by a baby emoji.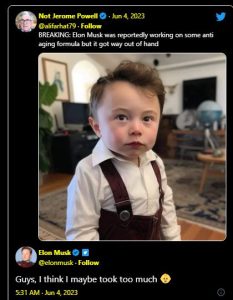 The tweet has garnered numerous responses from users, expressing their adoration for the "adorable" baby version of Elon Musk. Comments like "How adorable!", "aww so cute," and "so so cute" flood the replies section.
"One user speculated, "Now he has ample time to reach Mars," to which another replied, "Perhaps that was the master plan all along."
One user humorously asked, "Aww, is little Elon available for adoption? :)" Another user jokingly remarked, "Now Elon will probably say, 'I want to buy Disney.'"
ALSO READ:
Firmware Backdoor Discovered in Gigabyte Motherboards, 250+ Models Affected