A new web portal has been opened to accept the applications of those interested in launching a completely technology-based new type of bank 'Digital Bank'. Application period is 42 days. But even within 40 days not a single organization applied. But many people have opened the user ID. MFS companies 'Bikash', 'Nagad' and mobile operator Banglalink have prepared their documents to get a digital bank license but have not submitted them yet.
Also some other organizations are preparing. One of these organizations is going to form a consortium. Many of them have applied for extension of application time. In such a situation, the central bank has extended the application period for another 16 days.র্
ALSO READ:
In this regard, a notification has been issued by the Department of Communications and Publications of Bangladesh Bank on Sunday (July 30). Director (X Cadre-Publication) and Assistant Spokesperson Sayeda Khanom said in the circular that the deadline for submission of applications has been extended till August 17, 2023 (Thursday) considering the preparation of complete and standardized proposals and collection of various documents by all applicants for the purpose of applying for digital bank license. In this case, the other terms and conditions of the notification published earlier on 20th June 2023 shall remain unchanged.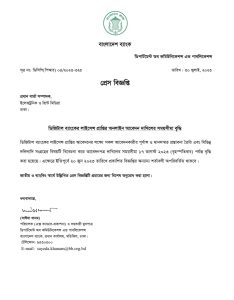 On June 14, the Board of Directors of Bangladesh Bank approved the launch of 'Digital Bank'. June 15 issued a policy in this regard. In line with this, the central bank launched a web portal on June 21 to submit online applications for 'Digital Bank'. The application period was given till August 1.
According to the central bank sources, the application for digital bank should be made through digital method instead of submitting documents in traditional way. That is, all the necessary documents must be submitted digitally. The application fee will be five lakh, which is non-negotiable. And the minimum capital required to open this bank is 125 crores. At least 50 lakh tk will be required to become a director.
'Digital Bank' will run completely technology dependent without branches, sub-branches, ATM booths. There will be no physical transaction. Bank services will be provided to customers using mobile and digital devices. Digital bank customer account will be opened online by following KYC. After opening the account, the customer can transfer and use money online using any other bank or MAFS agent, ATM booth, CDM, CRM network. Money can be withdrawn from your account in the same manner.