I
n its Q2 2023 Global Ransomware Report,
Corvus noted
a significant resurgence in global ransomware attacks, which has continued through the third quarter. Now, with two months remaining in the year, the number of ransomware victims in 2023 has already surpassed what was observed for 2021 and 2022. If the trajectory continues, 2023 will be the first year with more than 4,000 ransomware victims posted on leak sites (2,670 in 2022).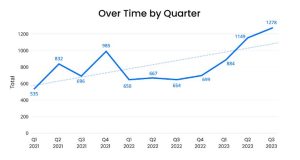 2023 has already seen more ransomware victims than all of 2021 and 2022 combined. If this trend continues, there could be over 4,000 ransomware victims posted on leak sites this year.

Note that this is not the complete picture. Victims who are listed on leak sites usually do not pay or delay paying a ransom.
However, a significant portion of victims, estimated to be between 27% – 41%, promptly pay the demands of threat actors and therefore are not seen on leak sites.
As a result, the total number of businesses affected by ransomware could be approximately 5,500 – 7,000 in 2023.
Factors Contributing to the Global Ransomware Surge
CL0P Mass Exploits Peaked:
CL0P, a previously quiet ransomware group, became active in Q1 by exploiting GoAnywhere file transfer software and impacting over 130 victims. In Q2, they targeted MOVEit file transfer software using a zero-day vulnerability, affecting 264 victims. This single vulnerability accounted for 9% of Q2's total and 13% of Q3's victims, significantly contributing to an increasing victim count.
However, even without CL0P, ransomware numbers increased by 5% compared to the previous quarter and 70% compared to the previous year in Q3.
The graph below illustrates the significant impact of a single group like CL0P, which was once relatively quiet.
Prior to 2023, CL0P only had a small number of ransomware victims. Now, they make up a considerable share of the total. A single opportunity for mass exploitation can lead to record-breaking results for a ransomware group.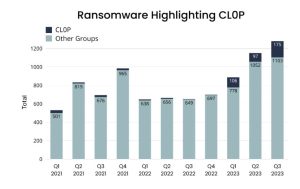 The
grey
bars show the activity of ransomware groups, excluding CL0P. These bars have been increasing steadily
in
2023.
Even without CL0P, ransomware activity is increasing.
Each quarter of this year has been higher than the previous one. Based on past trends, Q4 is expected to be worse than Q3.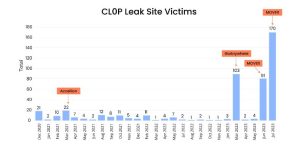 LockBit
and
ALPHV
(
BlackCat
) reduced the number of victims on their leak sites by around 50% from April to July 2023.
However, the latest numbers from late Q3 and early Q4 indicate that ransomware groups are returning to their usual activities and are expected to cause more harm in Q4.