Staff Reporter:
Trend Micro, a global cybersecurity leader, helps make the world safe for exchanging digital information. Fueled by decades of security expertise, global threat research, and continuous innovation, our cybersecurity platform protects 500,000+ organizations and 250+ million individuals across clouds, networks, devices, and endpoints.
As a leader in cloud and enterprise cybersecurity, our platform delivers central visibility for better, faster detection and response and a powerful range of advanced threat defense techniques optimized for environments, like AWS, Microsoft, and Google.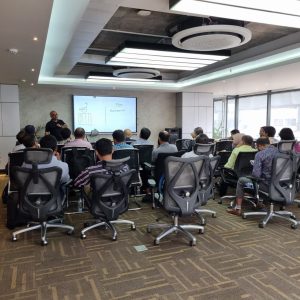 Trend Micro cultivates the habit of keeping update its customer, partners with the cutting edge technology in cyber industry. In accordance with it, Trend Micro arranged a workshop at smart tower in agargaon today.
The workshop focused on awareness of the latest threat, how we can handle the current threat with the existing platform, platform consolidation and why need 360 view in Cyber security. Partners from across the country joined the workshop.
ALSO READ:
Continuing professional Education (CPE) will be held in Bangladesh on 27 may, 2023
Abhijit Biswas, Sr. Technical consultant East from Kolkata, West Bengal, Atiqur Rahman, Regional Account Manager -Bangladesh, Nepal and Bhutan and Nasim Ahmed, presales consultant discussed those pre-selected topic for the attendee.
The attendees told InfoSecbulletin that such type of program help them to keep update the latest trends of cyber industry, increased awareness of cyber threats, improved security posture, enhanced collaboration with other security professionals.