Sajdah: The Smart Educational Prayer Rug
Qatari innovator Abdulrahman Saleh Khamis won a gold medal at the 48th International Exhibition of Inventions in Geneva for his groundbreaking invention, Sajdah, a smart educational prayer rug. Sajdah has garnered widespread recognition for its ability to guide new Muslims, including children, in performing prayers correctly.
The prayer rug with advanced technology combines interactive features with traditional elements and provides comprehensive guidance on the proper techniques and steps involved in prayer.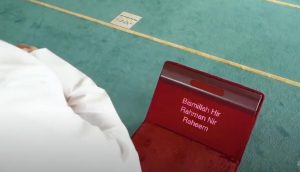 How does Sajdah work?
Sajdah incorporates a discreet LED screen and built-in speakers, enabling users to follow step-by-step guidance for over 25 prayers in English and Arabic. By connecting the smart rug to a mobile app, users can easily choose a specific prayer and access on-screen instructions.
Features of Sajdah
Guided prayer training: Sajdah guides users through daily and non-daily prayers in a step-by-step learning experience.
Quran reading: Sajdah's LED screen helps users read and memorize the Holy Quran while practicing prayers.
Smart and connected: Users can control the pace of prayer guides, including chapter transition speed, font size, and much more.
Multi-lingual: Prayer guides and Quran verses displayed in Arabic, English, and Latin Transliteration, updates will include more languages.
ALSO READ:
ADIB's New Face Recognition Technology Makes Account Opening Quick and Secure
Who can use the rug?
New Muslims: Sajdah acts as a personal trainer, guiding new Muslims through the five daily mandatory prayers, as well as 20 others. Users do not have to worry about forgetting something or if they are reciting the Qur'an properly. They can also use the app to learn about the correct postures and the order of every prayer.
Children: Sajdah offers a user-friendly solution for children to learn prayer by providing step-by-step instructions that are simple and easy to follow. It serves as a personal trainer, guiding children through each prayer. The technological features is especially beneficial for those who struggle with distractions or have conditions such as ADHD.
Prayer companion: Sajdah can help people concentrate during Taraweeh and other prayers while reading the Quran from the LED screen. The rug can be used to listen to Quran wherever you are through its built-in speakers. It can be a great praying tool for Muslims who can't memorize longer chapters of the Quran.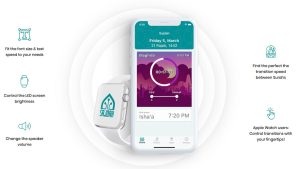 Smart control and customization
Sajdah allows every Muslim to customize their praying experience to fit their needs. Individuals can pair their smartphone or Apple Watch to Sajdah, and enjoy control and customization options as shown below. Multiple devices can connect to one Sajdah at the same time.
Shariah-compliant
According to Khamis, while designing Sajdah, he made sure to follow all the recommended praying guidelines. Sajdah, its app, and all features comply with the Shariah law, and is recognized by every madhhab as a proper prayer education tool.
Sajdah is a groundbreaking innovation that has the potential to revolutionize the way Muslims learn and practice prayer. It is a valuable tool for new Muslims, children, and anyone who wants to improve their prayer practices.