Greg Brockman resigned as president and co-founder of OpenAI on Saturday, following the unexpected dismissal of CEO Sam Altman by the company behind ChatGPT.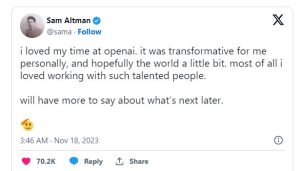 "I'm super proud of what we've all built together since starting in my apartment 8 years ago," Brockman wrote in a post on the social media site X. "We've been through tough & great times together, accomplishing so much despite all the reasons it should have been impossible. But based on today's news, I quit."
"Genuinely wishing you all nothing but the best," Brockman wrote in his post. "I continue to believe in the mission of creating safe (artificial general intelligence) that benefits all of humanity."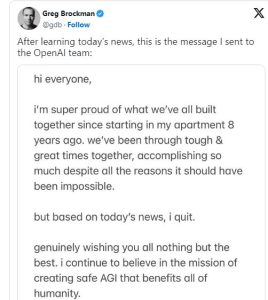 In one of the moves announced earlier, Brockman was due to step down from his role as board chairman but stay on at the company, reporting to the new CEO.
OpenAI said it has pushed out Sam Altman after a review found he was "not consistently candid in his communications" with the board of directors.
"The board no longer has confidence in his ability to continue leading OpenAI," the artificial intelligence company said in a statement.
Altman, the creator of ChatGPT, gained global fame in just one year. He is now seen as an important figure in Silicon Valley, discussing both the potential benefits and risks of artificial intelligence. However, when he suddenly and without much explanation left his position, it caused uncertainty about the future of the industry.
OpenAI declined to answer questions on what Altman's alleged lack of candour was about. The statement said his behaviour was hindering the board's ability to exercise its responsibilities.
Altman posted Friday on X: "i loved my time at openai. it was transformative for me personally, and hopefully the world a little bit. most of all i loved working with such talented people. will have more to say about what's next later."
Altman co-founded OpenAI, a non-profit research laboratory, in 2015. However, it was ChatGPT's sudden rise to popularity that brought Altman into the limelight as a representative of generative AI. This technology is capable of creating new images, pieces of text, and other forms of media. During a world tour this year, Altman was overwhelmed by a crowd of enthusiastic fans at an event in London.
He has met with many heads of state to talk about the potential and risks of AI. Last Thursday, he participated in a CEO summit at the Asia-Pacific Economic Cooperation conference in San Francisco, where OpenAI is located.
AI is predicted to be a major technological revolution. However, there is a need to be cautious about the potential risks it may pose in the future.
OpenAI's key business partner, Microsoft, which has invested billions of dollars into the startup and helped provide the computing power to run its AI systems, said that the transition won't affect its relationship.
"We have a long-term partnership with OpenAI and Microsoft remains committed to Mira and their team as we bring this next era of AI to our customers," said an emailed Microsoft statement.
"Mr. Altman's departure follows a deliberative review process by the board, which concluded that he was not consistently candid in his communications with the board, hindering its ability to exercise its responsibilities," the company said in a statement. "The board no longer has confidence in his ability to continue leading OpenAI."