The administration of America has allowed the neuro chip made by Musk's company to be implanted in the human brain. Elon Musk's neural brain research organization is called Neuralink. They have developed a chip to eliminate neurodegenerative diseases.
They have been researching this chip for a long time. They applied to carry out terminal research by placing the chip in the human brain. It has been approved by the US Food and Drug Administration. Neuralink disclosed this news by tweeting.
The company also said that it is possible to make the human brain equivalent to a super-intelligent computer one day through this chip. In fact, not only Musk's company, but several organizations around the world are researching this issue.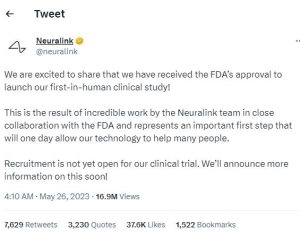 Research is underway on how to make the human brain more powerful, how to make it equivalent to a super intelligent computer. Musk's company claims this chip is the first step in that research. Apart from curing diseases, this chip can also do a second job. They claim that if this research is successful, a new horizon will be opened in the scientific history of mankind.
What would be the benefits?
People stop talking for various reasons. When a major accident occurs, the injury is also stopped. Because, it destroys the balance of the nervous system. With the help of this chip, it is considered possible to overcome the impact of injuries through artificial intelligence.
The nervous system will then begin to behave as before with the help of artificial intelligence. As a result, the injured person can start talking again. The organization said that this test will be started on human brain very soon.