Cairo Airport Company's website was attacked by cyber criminals. The attack was stopped successfully, setting an example in cybersecurity. The website's services were suspended temporarily, but will resume by the end of the day. The company assured that the website's services and data were secure and not affected by the attack. Investigations are ongoing to find the attacker and take legal action.
A group named "anonymous collective" claim the responsibility of the attack as they declared their social media channel and shared some screenshot. They claim the site was down about to 8 hours. The group also claim to attack cairo airport email services.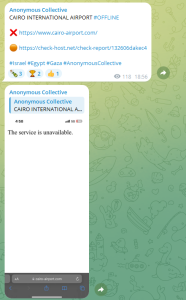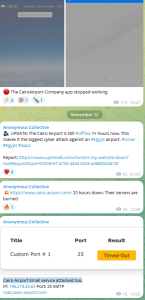 Highlighting the Global Cyber Threat
Cyber attacks are a major threat to organizations around the world. The recent attempt to breach the Cairo Airport Company's website highlights this issue. As businesses and institutions rely more on digital platforms, it is crucial to have strong cybersecurity measures in place. This helps protect sensitive data and keeps operations running smoothly.
Company's Proactive Approach to Cybersecurity
The company's effective defense against the hacking attempt shows their proactive approach to cybersecurity. They were committed to preserving the security of their online systems by quickly detecting and dealing with the threat. However, this incident also highlights the importance of always being alert and improving cybersecurity protocols to effectively counter evolving threats.
Reassuring Stakeholders with High Cybersecurity Standards
The company is committed to keeping data safe and ensuring that services are minimally affected by hacking attempts. They prioritize high cybersecurity standards.Such a commitment is essential for engendering trust among users and stakeholders, particularly in industries where data privacy and security are paramount.
A Strong Stand against Cyber Attacks
The company is determined to hold accountable those responsible for the hacking attempt. They are starting investigations and taking legal action. This proactive approach sends a strong message that cyber attacks will not be allowed. The company is committed to seeking justice and protecting its digital infrastructure.
The hacking attempt on the website of Cairo Airport Company is a clear reminder of the widespread and changing cyber threats. It highlights the urgent need for strong cybersecurity measures, detecting threats early, responding quickly, and taking legal actions to protect data and maintain digital services. This incident emphasizes the importance of prioritizing cybersecurity for operational resilience and managing risks in a digital world.
At the time of publishing the report cairo airport site was ok to visit.