Mysterious team Bangladesh claim the responsibility of down the website of power department, Government of Sikkim, India and Indian Gujarat Electricity regulatory commission website. They share screen shot on their telegram channel.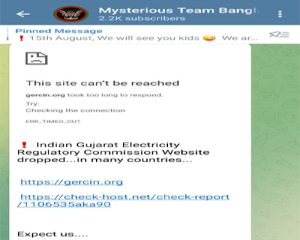 ALSO READ:
India published Information Security Practices for Government Entities
Coming 15 August, there is a threat of cyber attack in Bangladesh by Indian hacker group. BGD e-Gov CIRT and Bangladesh bank automatically alert on the coming threat ahead.