B
angladesh System Administrators Forum (BDSAF) organized a day-long IT security conference titled "Cyber Security Symposium 2023". Symposium was held on October 28, at "Brac In" auditorium on various important issues of information technology security and cyber awareness.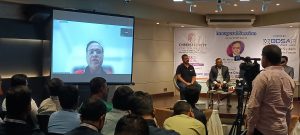 Md. Shamsul Arefin, secretary of information and technology division, was the chief guest in this event. Joining the opening session virtually discussed the dependence on information technology as the basic foundation of Smart Bangladesh.
At the same time, mentioning the increasing use of internet and technology in the country, he specially urged the IT professionals making an awareness and safe cyber space.
BDSAF President Md Zobayer Al Mahmud said, if this organization of about five thousand members gets enough support, it will reduce the foreign dependence to zero in the development of various emerging technologies of the country, including cloud computing. He also said that BDSAF will continue to work to increase the cyber security skills of IT professionals in keeping with the demand.
The symposium "Elevate Cyber Resilience: Uniting for a Secure Bangladesh" had ten technical sessions, a panel discussion and several lectures. BDSAF advisor eminent IT technologist and entrepreneur Shayrul Haque Joardar gave a guidance speech for the IT professionals as the key note speaker in the event.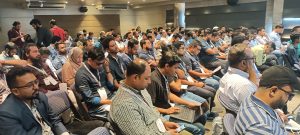 He said cyber security can no longer be seen as just an IT activity. An integrated strategy for cyber security needs to be developed from a holistic perspective.
Mr. Saif Rahman, COO of the country's first public-private partnership cloud "Meghna Cloud" also spoke on the occasion. He highlighted public-private collaboration in cloud provisioning and cyber security.
The day-long technical sessions were conducted by technical experts from various technology institutions including banks, software manufacturers, and universities.
In the technical session, mobile operator Grameen Phone's Head of Cloud Network and Security Raskin Pal, Principal Security Architect Mohammad Shahadat Hussain, and Head of Information Security Mohammad Shawkat Ali discussed various cyber tools, strategies and practices.
Besides, System Admin Shankar Nandi of ICDDRB, Head of DevOps and Cloud Engineering of BGIT Amir Hossain, Network Engineer of Dhaka University Md Mehdi Hasan, S M Rubayet Islam of Contessa Solutions and Ahmed Saif Muntaseer of Alpha Connections gave technical talks on building and managing IT and cyber security infrastructure. Apart from this, Shahnaz Begum, Head of Information Security of Akij Venture Group discussed cyber risks through internet and social media.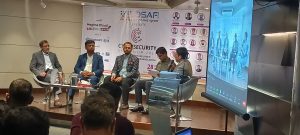 The panel discussion was attended by former Chief Information Technology Officer of Grameen Phone and Airtel Bangladesh and Managing Director of Contessa Solutions Mr. Lutfar Rahman, Deputy Managing Director of Community Bank MA Qayium Khan, Director of International Audit Center Deloitte, Bangladesh Muiz Tasnim and Mobile Operator Robi VP Sonjoy Chakraborty. MA Qaium Khan in his speech discussed about cyber security in financial space.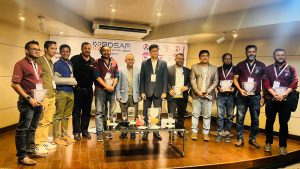 Mr. Sonjoy Chakraborty highlighted the legal aspects of data security and privacy. Mr. Muiz Tasnim, Director, Deloitte Bangladesh, spoke about the technical skills as well as other soft skills of cyber experts in the country.
Throughout the discussion, there was a discussion about setting up a disaster data center at the Sheikh Hasina Software Technology Park located in Jessore. BDSAF General Secretary Mohibbul Mokhtadir Tanim conducted the day-long event with panel discussion.