Operators are currently facing difficulties as they are unable to utilize the Election Commission (EC) server for various services, including verifying the authenticity of mobile phone SIM buyer's information. This server outage has persisted for two days, hampering the operators' ability to provide services such as SIM sales. However, the EC has assured that the issue will be resolved by tomorrow, which is Wednesday.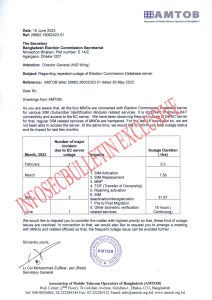 In a letter addressed to the Election Commission on Monday (June 19), the Association of Mobile Telecom Operators of Bangladesh (AMTOB) highlighted the complications arising from server problems. The country's four Mobile Network Operators (MNOs) rely on the Election Commission's database server for SIM-related services, emphasizing the importance of maintaining 24/7 server functionality. Unfortunately, the operators have been experiencing frequent outages, causing disruptions to SIM-related services.
ALSO READ:
US govt offers $10 million bounty for info on Clop ransomware
According to the letter, operators have been unable to access the server for a total of 18 hours, with the server consistently experiencing problems over the past few months. Sources from AMTOB have reported difficulties in accessing the server since last Sunday evening, which have persisted until Tuesday afternoon. The letter also mentioned previous server outages, including a half-hour outage in February, two hours in March, and a significant 31.5-hour outage in May.
AMTOB has urged the Election Commission to take the issue seriously and has requested a meeting with the mobile phone operators to address the matter.
Lt. Col. (retd.) Mohammad Zulfikar, the Secretary General of AMTOB, informed media today that services related to SIM cards, such as registration, replacement, mobile number portability (MNP), roaming services, and ownership changes, rely on the verification of customers' identity cards through the Election Commission's NID server. Unfortunately, due to the recent EC server outage, customers are currently unable to access these services.
When approached for comment, Muhammad Ashraf Hossain, the system manager of the Election Commission's National Identity Registration Division, informed media that the problem is expected to be resolved by tomorrow. He acknowledged that individuals seeking biometric services are currently facing difficulties due to the server outage.