Today (04 November) Saturday a day long "Flag Hunt-2023" and "cyber security conference" is being held at MIST powered by the IT Directorate, Bangladesh Army. 29 teams from different places across the country are competing among others to secure the first place till 3 PM.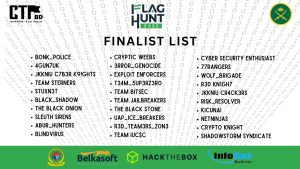 After the CTF,  there are another two event. "take0ver – Elite Research Gathering" a cybersecurity research-based conference and a platform to inspire local researchers to focus more on research in the cybersecurity domain. 𝐏𝐫𝐢𝐚𝐥 𝐈𝐬𝐥𝐚𝐦 𝐊𝐡𝐚𝐧, an Independent Security Researcher and Red Team Member at Synack Inc with over 𝟔 𝐲𝐞𝐚𝐫𝐬 𝐨𝐟 𝐞𝐱𝐩𝐞𝐫𝐢𝐞𝐧𝐜𝐞 will talk on the topic "𝐓𝐡𝐞 𝐀𝐫𝐭 𝐨𝐟 𝐃𝐍𝐒 𝐇𝐢𝐣𝐚𝐜𝐤𝐢𝐧𝐠".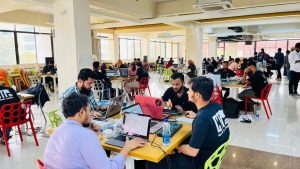 He has identified major security vulnerabilities in globally recognized companies such as 𝐆𝐨𝐨𝐠𝐥𝐞, 𝐅𝐚𝐜𝐞𝐛𝐨𝐨𝐤, 𝐌𝐢𝐜𝐫𝐨𝐬𝐨𝐟𝐭, 𝐓𝐰𝐢𝐭𝐭𝐞𝐫, 𝐘𝐚𝐡𝐨𝐨, 𝐔𝐛𝐞𝐫, 𝐆𝐢𝐭𝐡𝐮𝐛, 𝐂𝐢𝐬𝐜𝐨, and more. Acknowledged by hundreds of companies and listed in over +100 Halls of Fame.
𝐌𝐝 𝐑𝐚𝐬𝐞𝐥 𝐁𝐡𝐮𝐲𝐚𝐧 , a distinguished cybersecurity researcher with over 4 years of expertise in Application Security, Blockchain, Malware Analysis, Digital Forensics, and Incident Response will talk on the topic "𝐇𝐢𝐝𝐝𝐞𝐧 𝐓𝐡𝐫𝐞𝐚𝐭𝐬: 𝙃𝙤𝙬 𝙁𝙞𝙧𝙢𝙬𝙖𝙧𝙚 𝙖𝙣𝙙 𝙃𝙖𝙧𝙙𝙬𝙖𝙧𝙚 𝘽𝙖𝙘𝙠𝙙𝙤𝙤𝙧𝙨 𝘾𝙖𝙣 𝙋𝙚𝙣𝙚𝙩𝙧𝙖𝙩𝙚 𝘼𝙣𝙮 𝙊𝙧𝙜𝙖𝙣𝙞𝙯𝙖𝙩𝙞𝙤𝙣'𝙨 𝘿𝙚𝙛𝙚𝙣𝙨𝙚𝙨 — 𝘼 𝘾𝙖𝙡𝙡 𝙩𝙤 𝘽𝙚𝙬𝙖𝙧𝙚 𝙤𝙛 𝙑𝙚𝙣𝙙𝙤𝙧 𝘾𝙤𝙢𝙥𝙖𝙣𝙞𝙚𝙨."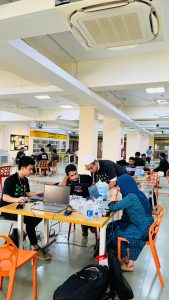 His remarkable journey includes securing 50+ organizations, including tech giants like Microsoft, Facebook, Apple, Mastercard, Walmart, and Schology.
There is prize giving ceremony after CTF and cyber security conferences today. There may attend Army officials at the event.