SOCRadar, a cybersecurity firm, has identified several significant database leaks, involving popular social media platforms like TikTok, Instagram, and Yahoo!. The leaked data from these platforms has surfaced on the dark web, raising concerns about user privacy and security.
In the case of TikTok, SOCRadar's Dark Web Team has detected a potential data leak of the TikTok database. The leaked data, reportedly in JSON format, is believed to originate from tiktok.com. Although the date of the leak is unknown, the data size is estimated to be around 178GB. Another threat actor has also shared the same alleged leak on a different forum, claiming that the data dates back to 2022, indicating it may contain older records.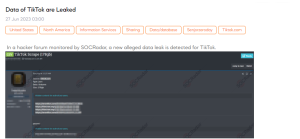 Regarding Instagram, a SOCRadar dark web analyst has recently uncovered an alleged database leak associated with the platform. The leaked data, consisting of over 17 million records in JSON format, includes sensitive information such as usernames, email addresses, phone numbers, addresses, and names. It is suspected that this data may have been collected from open sources.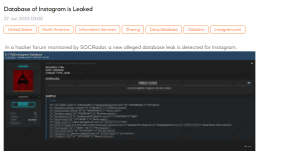 In the case of Yahoo!, a SOCRadar researcher has detected indications of a potential breach in Yahoo! account data. However, specific details regarding the scale of the leak and the compromised information have not been disclosed at this time.

These database leaks underscore the ongoing challenges in safeguarding user data and highlight the importance of robust cybersecurity measures to protect sensitive information. Users of these platforms are advised to remain vigilant, review their security settings, and consider taking appropriate actions to protect their personal information from potential misuse.
ALSO READ:
A hybrid deployment approach can be applied in Bangladesh for cloud: Anagha Mujumdar