Dubai launched the world's first 5.5G villa on Monday, offering residents an even more luxurious living experience.
Huawei, a major Chinese technology company, partnered with du, the second-largest telecommunications operator in the UAE, to introduce a new technology. This technology, powered by Huawei's advanced fixed wireless access technology called 5G-Advanced, allows residents to enjoy naked-eye 3D videos, high-quality 8K UHD streaming, and exciting XR games. du's 5.5G Experience Carrier enables subscribers to experience peak speeds of 10Gbps in real-time.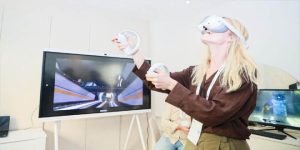 5G-Advanced is a technology that bridges the gap between 5G and 6G. It offers smart connectivity and connects people who are on trains and planes. It also supports immersive and interactive applications, which will be used in entertainment, training, and education.
Fahad Al Hassawi, CEO of du, said it is a great honour to launch 5G-Advanced with Huawei.
"We are committed to bringing new innovations to the market and we need innovative partners like Huawei to do so. Today, it was proven that we made the right choice in partnering with them. Together, we will take the market to the next level and showcase the best in the UAE. Al Hassawi said this after launching the 5.5G villa in Jumeirah Islands.