The National Identity card (NID) server has been down since Tuesday morning. The server is down until noon tomorrow due to ongoing maintenance work.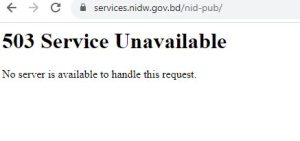 Muhammad Ashraf Hossain, system manager of NID division of the commission told this to media. A notice says that the server is undergoing maintenance. As a result, all services related to NID will be closed from today morning till 2 pm tomorrow, Wednesday. The authorities expressed sincere regret for the temporary inconvenience.
ALSO READ:
Microsoft accidently leaks 38TB of internal data and fixed the mistake
Earlier, after shutting down the NID server for about 38 hours from 12:00 PM on August 14 to prevent cyber attacks, the EC started it around 2:00 PM on August 16. Today (19 September) there was a pre-declared possible cyber attack on Bangladeshi infra by a hacker group.
EC is ensuring more security of NID servers after recent revelations of data breach of citizen's data in Registrar of Births and Deaths office. EC has also formed its own CIRT team for this.
NID database has 30 types of personal information of about 12 crore voters. 171 public and private organizations are regularly availing information verification services from this repository of EC.